I love the bounty of end of summer veggies my garden produces. We are so lucky to be able to have a small area to plant on where we grow a couple of our favorite vegetables like tomatoes, cucumbers, peppers and zucchini.
While my cucumbers are busy encroaching on my peppers and carrots, my zucchini plants are busy growing so large that they are the size of my arm. This mean we have A LOT of zucchini at home and are using it in some ways that are new and other ways that are old favorites.
Today I want to share an old favorite recipe with you that incorporates zucchini in a way that will have your kids begging for more. Seriously, my daughter will not touch zucchini normally, but when I hide it in a little Cinnamon Zucchini Bread she eats half a loaf.
This bread has been a great way to get her and my son (who also devours this) to eat a nutritious, green veggie while using up the end of summer garden harvest. Luckily, I can get three loafs out of each of our zucchini because in the last week we have had to make this twice.
Check out the recipe below to get the directions for this sweet and savory bread that kids will find irresistible.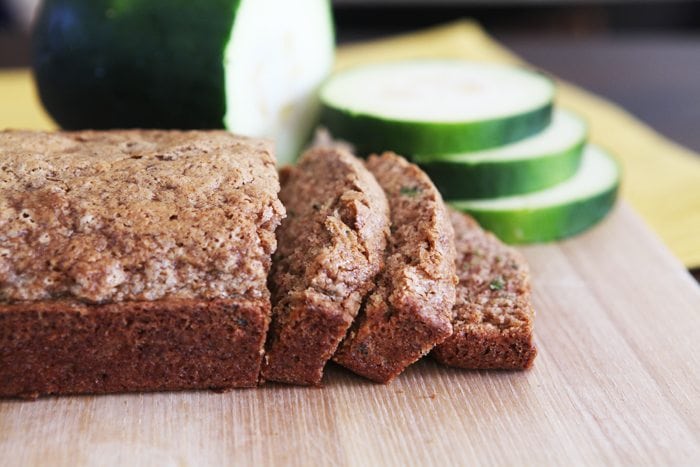 CINNAMON ZUCCHINI BREAD
Ingredients
1.5 cups of flour
1.5 cups of grated zucchini
1 cup of sugar
1 egg, beaten
1/4 cup of cooking oil (I used canola.)
2 Tsp. of ground cinnamon
1.5 Tsp. of nutmeg
1.5 Tsp. of baking soda
1.5 Tsp. of baking powder
Steps
1. Preheat your over to 350 degrees and shred your zucchini. I use a standard cheese grater to make mine a workable size. I also then strain some of the water out of it by using a colander or strainer and setting it on top of a bowl. (Photo above) Zucchini carries a lot of water and while I want some of it, I don't want the zucchini to just turn into complete mush. I like to see it in the final product.

2. Combine all your dry ingredients and mix thoroughly. You want to make sure it is well blended before moving on.
3. Combine your shredded zucchini, your egg and cooking oil and mix together.
4. Add your wet ingredients to the dry mixture and combine until it is a thick batter. It will not look pretty looking.

5. Once everything is mixed, add it to a greased bread pan. I use a spray olive oil to grease mine, but if you don't have that you can use any oil or butter.
6. Put the pan into the oven and cook for 40 – 50 minutes. Oven times will vary. I check mine at 40 minutes by pulling it out and using a shish kabob stick to see if it is cooked through in the middle.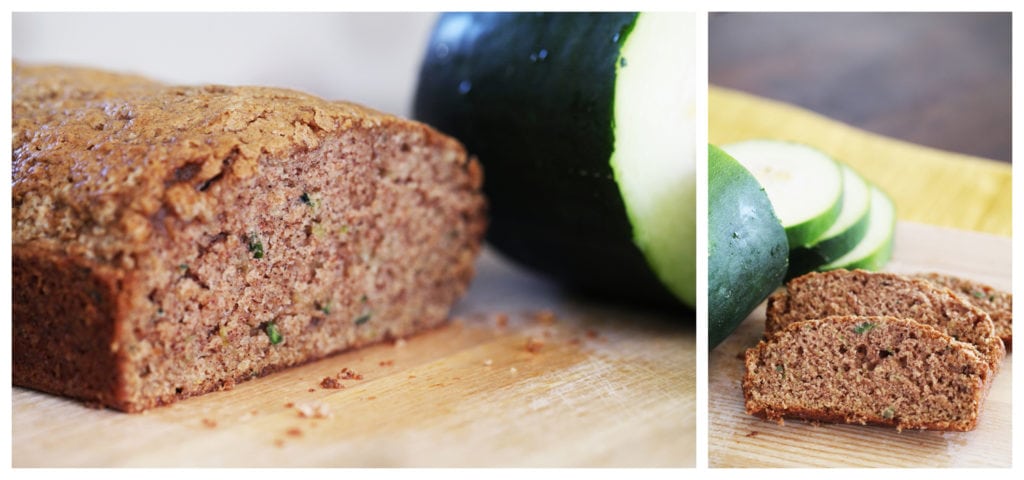 7. Once it is done, let cool for at least 15 minutes before removing it from the pan. Turn it upside down on a plate and it should come right out for you.
8. Slice and enjoy! Try to keep your kids from eating it all and save some for yourself!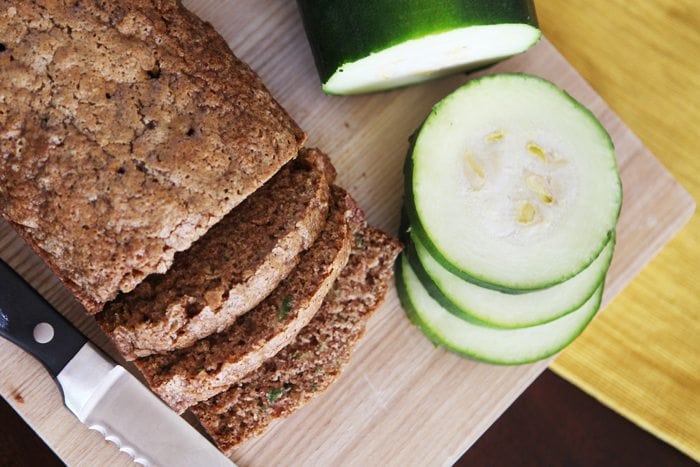 Even if you don't have a garden, this tasty vegetable is in season right now so they should be plentiful in your grocery store. If you have never tried it before, this is the perfect time to pick one up and give it a go!
Happy eating, friends! Â Let me know if you make it. I would love to hear how it turns out.